The graph area shows a history of beat readings of a clock. This particular graph represents an unusual setup. MicroSet is measuring single beats at the escape wheel. It shows us that the wheel is eccentric and speeds up and slows down dramatically with each rotation.
The beat times are labeled at the left of the graph, with the center at 8000 BPH.
The numbers above the graph show us that we have collected 250 readings and the average rate is 7993.315 BPH.
The "Target Rate" is set to 8000.000. This value is entered by the operator, and is the correct rate for this movement.
The "Average Error" of -1.2 mins/day is calculated by comparing the "Target Rate" with the current "Average Rate" and tells us that the movement is running slow by this amount.
The "Instability" is a parameter that evaluates the consistency of the movement .... how well it keeps to a steady rate. This can be used to judge how well a clock is running.
MicroSet calculates the correct length of the pendulum from the value entered for "Target Rate" and shows this to you at the top of the screen. Below this it shows you how far you must move the pendulum bob to get the clock to run at the correct rate. On this clock, the bob must be moved up .013 inches to correct the losing rate of 1.2 minutes per day.
Other controls let you zoom in on parts of the data, scroll through the history of readings, display running averages or moving averages, etc. When used with atmospheric sensors, the graph has several additional controls. To see an image of the full screen with sensors, click here.
We have installed a copy of the Windows software to monitor a tower clock, with atmospheric sensors, in the Santa Barbara County Courthouse. To see a live update on the software running on this clock, click here.
The following illustration shows the MicroSet interface software version 3 measuring a watch as a simulation of paper tape timers.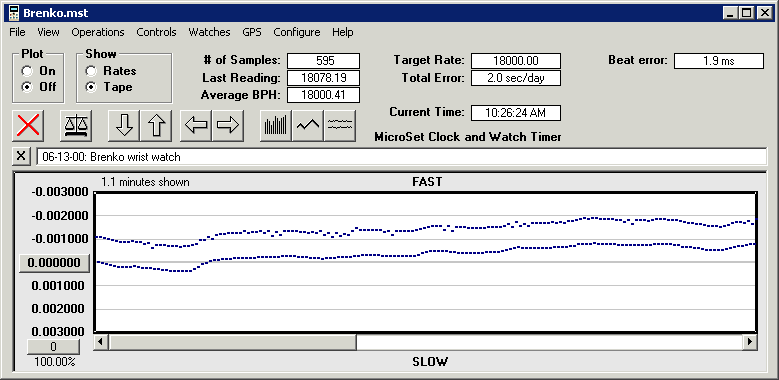 There are three versions of the software program available for Windows computers. Version 2 is the basic program for clock work. Version 3 has expanded features to support watch functions. A special enhanced version is included only with the MicroSet Watch Timer Pro.
The software will run under all versions of Windows from 95 to Windows 7. We no longer offer a version for Macintosh computers, but you can run the Windows versions under Virtual PC for Macintosh.
Versions 2 and 3 of the computer interface have essentially the same screen appearance and functions. They differ in the commands that are available under the Menus.